Een tijdje geleden raakte we in gesprek met een Dominicaan. Hij vertelde ons dat hij ons westerlingen maar een beetje loco (gek) vond. "We zijn altijd zo hard aan het werk om al onze spullen te kunnen kopen, waardoor we helemaal gestrest raken. Vervolgens worden we nog meer gestrest omdat we bang zijn dat onze "waardevolle" spullen kapot gaan of worden gestolen. Hij daarentegen was juist heel relaxt. Hij had niet veel, maar had ook niet veel nodig. Als hij honger had, ging hij een beetje vissen of plukte hij wat fruit van een boom. Voor de rest relaxte hij een beetje met z'n maten. Het goede leven!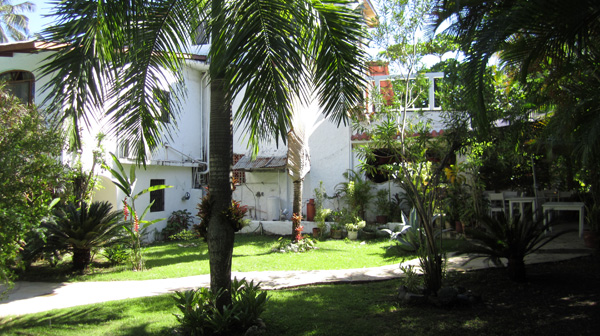 Een van de bijzonderste dingen hier in de Dominicaanse Republiek is dat iedereen wel een paar fruitbomen in z'n tuintje heeft staan. Hoe relaxt, om het hele jaar door vers fruit uit je eigen tuin te hebben! De tuin van het
hotelletje
waar we nu wonen heeft ook een boel fruit staan.
Bananen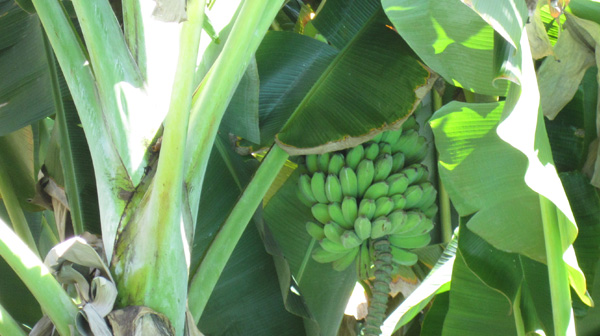 Bananen zie je hier overal, bij mensen in de tuin, of gewoon langs de weg.
Mango
Volgens Dorothy, de eigenares, heeft iemand een jaar geleden een mangopit in de tuin gegooid en is daar nu kleine mangostruik uit gegrooid. Helaas draagt ie nog geen vruchten.
Passievrucht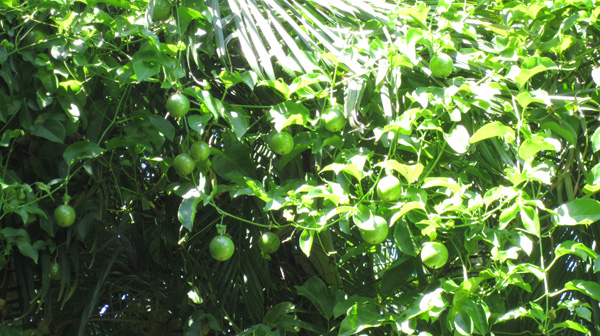 Chinola noemen ze die hier, en is volgens mij een van de typische Dominicaanse vruchten. Erg lekker om er sapjes van te maken!
Kokosnoten
Net als de bananen zie je hier overal kokospalmen. Erg lekker om cocktails uit te drinken 😉
Dominicaanse Kersen
De plant lijkt helemaal niet op een kersenboom, maar de rode vruchtjes zien eruit en smaken wel heel erg naar kers alleen een beetje zuurder.
Aloë Vera
Niet echt een fruit, maar je ziet ze hier overal staan. Erg bijzonder plantje dat super gezond voor je is. Aloë vera valt me natuurlijk nu extra op omdat we veel aloë vera producten verkopen in onze
webshop FairBodyCare
.
Het is gewoon belachelijk hoeveel leven er in de tuin is hier, naast alle planten struikel je over de hagedisjes en zie je zelfs af en toe krabbetjes wegkruipen! Toch wel wat beter dan die suffe mieren in Nederland 🙂